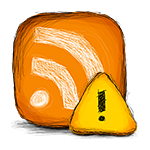 To learn more and to keep up with the latest trends, I was following 41 web-related blogs… daily! My interests are web design, marketing, front-end development and digital activism. I used to scan about 120 new posts per day and select just a few to read.

But that's a lot of time spent scanning Digg Reader and that's not sustainable. Today I've decided to change my approach and scan a smaller list with my favourite blogs. Now I can save time, relax and think about how to practice what I've learned on the best posts. Many blogs talk about the same issues anyway.
Selecting my short list favorite blogs was not easy, as all the 41 deserved to be in, but this is my final choice:
Web development and web design
Digital marketing
Digital activism
Social networking
If you want to try reading this blogs regularly, I recommend using an RSS reader like Google Reader and import this list. You can download, unzip and import my OPML file.
If you disagree with this list and you want to challenge it, please put your best suggestion in the comments. Note: In this blog comments are moderated and external links checked. Posts with spammy, crappy or unrelated links will be deleted without notice.