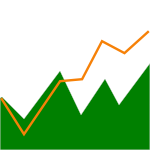 Web analytics is the measurement, collection, analysis and reporting of for purposes of understanding and optimizing web usage. Online analytics extends web analytics and analyses e-mail and social networks. An organization with advanced online analytics decides based on information on users behaviour and avoids relying on faith-based decisions.

Faith-based decisions are decisions based on personal preferences, previous experiences in different situations, or general advices on what works better in a website. Faith-based decisions imply a higher risk for the organization, and often produce inferior results because audiences and situations are always different. Online analytics will often show you that your previous assumptions were wrong, so it's better to learn how to be wrong quickly and move on.
Data-driven decisions about the organization's online ecosystem are fundamental to achieve good results and in line with agreed goals. But where is your non-profit organization in the road to excellent online analytics? Inspired by the thoughts of important analysts and guru's like Avinash and Gemma I've divided online analytics in five levels.
Level 0: Metrics are non-existent or irrelevant
Practically all decisions are faith-based, no action is being taken based on online metrics.
Measuring tools may be implemented in some sites and online tools.
Occasionally people may ask about basic web metrics, like visitors, page-views or time on site. This information may be used to motivate the staff or to kill a specific project or method, but they rarely contribute to improve a website, e-mail, online tool or social network presence.
In the organization nobody is investing time in online analytics.
Level 1: Basic online analytics for non-profits
Most decisions are faith-based, but sometimes the organization uses basic information to take some decisions or to bet on or dismiss a certain practice. Change based on online data-analysis is rare.
Web metrics are used as a tool to motivate or to put pressure on staff or stakeholders. Analysis sometimes point problems but rarely monitors the implementation of possible solutions.
Online goals are not DUMB (Doable. Understandable. Manageable. Beneficial.)
Key Performance Indicators may exist, but the work necessary to meet goals is not prioritized in the online department. Sometimes there are too many KPI's, some can be hard to measure or contradictory.
Measuring tools are implemented in all websites and web tools.
Top 10's (most visited, lowest bounce rate, most shared) are briefly analysed, in search for "dos-and-don't" that are often applied to similar content or situations.
There's an attempt to build a general demographic profile of the online visitor, or to detect some characteristic that will be considered on the production or promotion of content.
The number of conversions and related traffic sources is monitored.
Top entry/exit pages are watched.
Some data-analysis and interpretation may exist, but most of time it's conclusions are not properly implemented, tested and adjusted.
On e-mail open-rate and click-rate are watched, there's an effort improving subject lines, calls to action, effective subjects and day/hour to send. E-mail lists are usually static (add new subscriptions and remove unsubscribes).
On social networks the attention goes to the number followers and follower growth.
Search engine optimization basically has ensured that pages are indexable, but no more than that.
Resources to online analytics exist, but the time is spent on reporting and presenting reports in a nicely manner.
Level 2: Behaviour optimization
Business driven, working on metrics, accuracy and process. Data-driven decisions outweigh the faith-based decisions and contribute to increase revenue.
Goals and key performance indicators exist, are prioritized and are DUMB (Doable. Understandable. Manageable. Beneficial.)
Measuring tools are optimized in all websites and tools.
User path analysis is frequent and optimized.
Funnel reports and usability tests on forms. Impediments are removed and best practices tested and adopted.
A/B testing is done on key components, but not on a permanent basis.
Staff has custom personal dashboards for easier decision making, and reporting is organized to provide answers to questions each member needs to answer.
On social networks the attention goes to clicks, shares, likes and its' relation to the websites/other content visits.
Dedicated resources spend most of their time on improving (or managing the improvement) of key processes like forms, website navigation, buttons, text and the value they deliver to accomplish the goals and revenue.
Level 3: E-marketing
Segmentation, quicker responses, signups and other user activity is valued. On this level, experiments are launched frequently, measured and analysed.
KPI alerts will provoke changes on a weekly or even daily basis.
Metrics segment by online behaviour. Examples of segments are: people who clicked on a specific e-mail, returned to the site more than 4 times, their last visit was more than 2 months ago, visited a specific page, clicked on the "Tweet this" link more than once…
E-mail segmentation is frequent but not yet fully integrated with the website. Emails may include dynamic content decided based in information about the user, like age, gender, region where it lives, if it has donated before, if it is a student…
Landings and other specific channels are created to best serve online segments. Landing by visitors motivation, level of engagement, first time visitor or frequent, search engine keyword, region….
Personas: Simulate the behaviour of potential audiences (to convert) in the website. What do they do to and what is the reason they arrived to the website.
Micro conversions are valued: How much does a new signup is worth (average)? How much does a positive comment on the blog is worth? How much does a share is worth? Micro conversion values are calculated based on the impact they have on macro conversions.
On social networks, attention goes to measuring benefits, amount and tone of conversation.
A/B testing is a routine process for all important parts of the online ecosystem. Innovation is constantly tested in A/B tests.
Campaign optimization with management of costs, results and conversions.
Search engine optimization metrics.
Dedicated resources are abundant and spend their time analysing and looking for opportunities, and testing innovations. Metrics completely determine how a specific campaign is promoted online.
Level 4: CRM
On this level the organization needs a Content Relationship Manager (software) that is tightly integrated with the online ecosystem. Users are tagged by behaviour instead of simple segmentation into groups, and many users receive the content appropriate to their involvement and interests. The organization knows the number of donors with each tag.
Analytics based content serving: The website will show specific banners or text for visitors that meet specific requirements: new visitors, visitors who have return to the website for the 3rdtime, visitors who come from a specific Google Search…
Personalization: Identify the user with login (site specific, Facebook, Twitter, OpenID or others) and serve him/her specific content, connecting the visit to the CRM.
Full view of the customer: record what he/she has clicked, voted, signed up, what social networks he/she uses and interact with him/her using that information.
Lifetime value, value based segmentation: Identify, and keep the most interesting donors (long term), and invest more in the sources that recruit them and the items that keep them happy as donors. Predict potential value based on online behaviour
Move away from a cost-based acquisition model to one that recognizes the cross and up-sell rewards of acquiring the right donors over the duration they'll be our donors.
Social networking activity is integrated with the website and the CRM to better know the member. Relations with people that can help a lot are curated.
Online branding metrics: Regular analysis of brand influence in online results. Measurement of amount and tone of buzz around the organization, its campaigns and projects.
Dedicated resources to online analysts are abundant and their conclusions, together with offline informations, determine the campaigns, the audiences to pursuit and the products/services to produce and how they are promoted.
Key points in the road to online excellence
DUMB goals for online activity are and known and prioritized by all the organization.
Enough and adequate resources are allocated to analytics.
Investment follows 10/90 rule: 10% in technology, 90% on people.
Evolve one level at a time, work using a methodology based on incremental development.
The importance of online analytics is recognized by management, that insists in changing from decisions based on faith to decisions based on data-analysis.